I am a huge fan of summer and all the things that come with it, like eating ice cream, wearing fun little sundresses...and of course, trips to the beach. As much as I adore the beach, I must be honest and admit that the thought of sqeeshing my wobbly bits into a teeny weeny bikini does make me want to run back to winter and hide myself under an oversized coat. That was until I discovered the cute little bikini's that are on offer this season. Armed with these babies, no one will even notice the jingly jangly bits, they will be way too distracted by the awesomeness that the bits are covered in. These are my fave pics from the interweb. What will you guys be wearing to the beach this summer?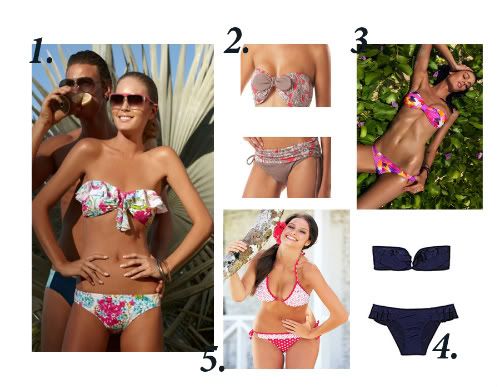 I'm also in luurve with vintage inspired swimwear, and this high waisted bikini from
swimweargalore
is just the epitome of perfection...and the fact that it is perfect for hiding a post christmas paunch, has nothing to do with...well maybe just a little!